Wicker walked so Sling could run. Read on to learn more about Sling Fabric & Sling Furniture, an excellent option for long-lasting outdoor upholstery.

Discover the historic origins of its popularity, common terms and definitions, pros and cons of organic vs. synthetic materials, early product innovation, leading sling fabric manufacturers, and more.
Introduction to Sling Fabric & Flexible Furniture
Sling fabric emerged as a long-lasting and weather-resistant alternative to traditional wicker, rattan, leather, and other natural fibers that have been used for centuries to build flexible, easy-to-store seating. From wicker buried with Egyptian pharaohs to luxurious woven rattan seating unearthed in ancient Rome, humans have been seeking out responsive, cradling comfort for centuries.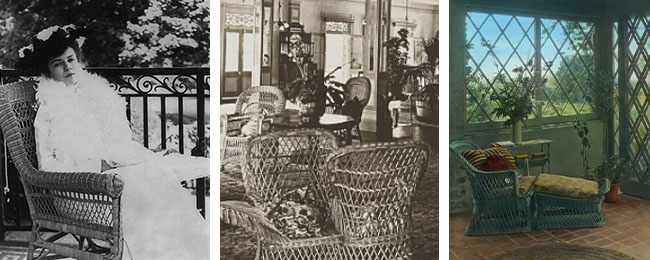 Sling Furniture Definitions & Common Terms
With such a long history, the sling chair can go by many names:
Often referred to by where they are most useful - deck chair, patio chair, or beach chair.
Sometimes the terms reflect how they are made - plastic mesh chair, canvas chair, or sling back chair.
Other common names will reference how they work - folding lounge chair, mesh hammock chair, or portable fabric chair.
No matter the colloquial terminology, sling furniture is defined by its composition: flexible material that is fastened and fitted to a metal or wood frame.
Pros & Cons of Natural Fiber Furniture
With regular maintenance, proper care, and a good amount of free time, wicker furniture made from sustainable rattan can last generations. Furniture made from natural fiber is subject to degradation, molding, mildew, and splintering, requiring regular weatherproofing & chemical treatments. Dust and dirt buildup can also cause damage to the material, requiring regular, gentle vacuuming of the nooks & crannies.

Benefits of Modern Sling Fabric
Sling furniture fabric needs to be able to hold up to prolonged tension and body weight so material, weave, and fabric strength are key. Before the invention of synthetic sling fabric, this strength was derived from tightly woven rattan used in the creation of wicker furniture. The late 1800s introduced new machine weaving methods using alternative materials, bringing about the invention of wearable mesh fabric, insect screening, and other products created by weaving non-traditional materials.

Around 60 years later, Polyester (a category of plastic polymers) was introduced to the world of textiles and upholstery. Earning the name "miracle fabric" in the 1950s, its low-maintenance longevity & colorfastness quickly caught the attention of non-wearable textile manufacturers. Polyester is now an essential element in performance fabrics, especially those used in Sling Furniture fabrication.
Leading Sling Fabric Manufacturers
Phifer®
Phifer began producing aluminum and fiberglass insect screening in 1952 but capitalized on its wire drawing and textile weaving expertise to become an industry-leading authority in additional, related markets.
Phifertex® Sling Fabric: Mesh sling fabrics that feature built-in Microban® antimicrobial protection to prevent bacteria growth, mold, and mildew. Trusted to resist UV damage & fading for long-term vibrancy and is simple to maintain with bleach or soap.

Phifertex Cane Wicker Collection: Functional and durable, Phifertex Wicker Weaves offer the look of traditional wicker without the hassle.
Phifertex Jacquards: Expertly & artistically woven designs of high-end motifs provide customers with style options outside of stripes and wicker weave.
Phifertex Resort: A colorful collection of resort-inspired colorways and stripe patterns, these fabrics harken back to the vacation photos of yesteryear.
Phifertex Olefin/PVC Blend: This blended upholstery fabric combines the strength of vinyl-coated polyester with the softness of olefin.
Phifertex Plus: Features a sturdier weight and dense fabric count for heavy-duty projects. With an openness factor of 7.5%, it's ideal for sling applications.

Twitchell™
Since 1922, Twitchell has represented quality in yarns and fabrics present in hundreds of products across multiple industries. Offering vinyl-coated polyester core yarns woven to produce an array of highly weather-resistant sling, mesh, and screening material for countless industries.
TEXTILENE® SUNSURE® Sling Fabric: A specially formulated high-strength sling fabric from Twitchell, TEXTILENE SUNSURE is engineered for long-term resistance to fading, mildew, soiling, and wear. Designed to remain vibrant and colorful for years, even when exposed to continuous sunlight or severe weather conditions.

Sunbrella®
Starting with awning canvas in the 1960s, Sunbrella rose to the challenge of creating fabric with a substantially longer lifespan than cotton. All Sunbrella fabrics are manufactured with Color to the Core
™
technology. This proprietary process means each foundational fiber is saturated with color and UV-stabilized pigments. Once saturated, the proprietary fiber is spun into yarns which are then woven into long-lasting performance fabric.
Sunbrella Sling Fabric: Sunbrella Sling withstands the elements, and because it is resistant to chlorine, chemicals, and UV damage, it's ideal for the family backyard, patio, or by the pool. Outdoor chairs made with Sunbrella Sling are proven to maintain their color & brilliance with deep fiber color saturation and UV-stabilized pigments. Unlike a traditional PVC sling or vinyl mesh, Sunbrella Sling's proprietary technology blends the strength of PVC with the softness of Sunbrella acrylic yarn for seating that is supportive without stiffness.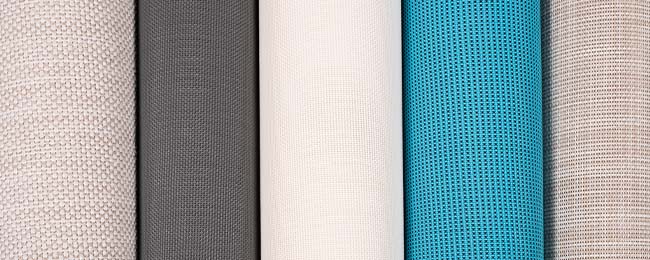 Partner with a Wholesale Fabric Provider for High-Quality Sling Fabric
Give your customers the same cradling comfort as wicker, without the hassle, by shopping with Trivantage for your next outdoor furniture project.